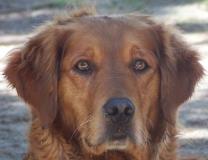 Testimonials

Ranger

"He is a super family dog and is soooooo smart and when I take him out in the field he has been doing great listening to my commands and is very birdy. I can't brag about you guys enough to my friends. We just love Ranger! Thanks again for a super dog! "

-Brian K, Rochester, MN

Rosie

"I took her out again to [South Dakota] for the opener. She is simply amazing. She was all business. She has a great nose. She pointed approximately 20 pheasants over three days. She is something else and I think she will be the best dog I have ever hunted with."

-Pat G, New Prague, MN

Zoey

"I have never seen anything like this from a Golden Retriever pup! She is unbelievably fast in the field, with a fantastic nose, tons of drive and SUPER BIRDY! She is truly a hunting machine, even at her young age."

-Joe S, Indiana

Åsa

"Åsa went on her first pheasant hunt two weekends ago. We hunted a game farm, and the keeper assured us we wouldn't get a single bird because of the weather. He scoffed when I told him Åsa was 6 months old and it was her first pheasant hunt. We ended up taking six birds. The keeper said it was the best work he had ever seen a dog do in a torrential downpour and high winds.

We've moved on from single and double blind retrieves to force-breaking and a continuation of obedience work. She's doing very well. She was spayed about a month ago now and has a clean bill of health all around. Everybody sees her and is compelled to get a red golden. I tell them the only place to go is Prairie Fire. Thanks so much for breeding great dogs! "

-Karl S, Wisconsin

Summit

"I just wanted to give you an update on Summit. He has been everything that I hoped for and more! The first time I took him out to tag along last winter, I was blocking and he retrieved two birds (we have a great video of that hunt). Summit is a wonderful companion and almost machine-like as he flushes and retrieves birds. I thank you for all that you have done for me. Best wishes to you and your family.

Phillip P, Luverne, MN